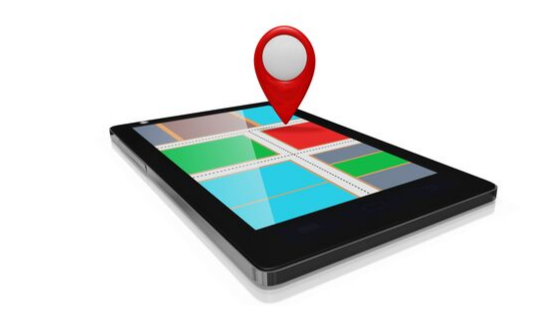 02

OCT
Fact: 46% of all Google searches are local.
So the burning question remains:
Does SEO really matter for local business in 2019?
After all, things change quickly in SEO best practices and the myriad of ways to optimize your online presence.
But going by that metric alone, if your small business is not optimized for local organic searches, you are missing out on many potential customers.
And then there is this:
51% of mobile phone users look for local information while on the go.
And what local information do these smartphone users commonly search for?
Where is the closest fill in the blank with your industry near me?
What are the store hours for fill in the blank with your business name?
Considering that we are all attached at the hip to our mobile phones (almost literally), this is a huge opportunity.
What's more, voice search is becoming more and more prevalent because of cell phones. That means that your search engine optimization strategy needs to take into consideration how to answer these long form questions.
So what exactly IS local SEO?
Now that we introduced local SEO and why it's important more than ever, let's get into a bit more detail about what local search engine optimization actually is.
In short, local SEO is the optimization of a business' online presence for a local audience. It is very much like standard SEO, but with the additional geographic component.
Is it website optimization?
One of the often overlooked facts about local SEO, is that it does not pertain only to websites. A business can rank highly in local listings or show up in directory listings, even if it doesn't have a website.
Case in point: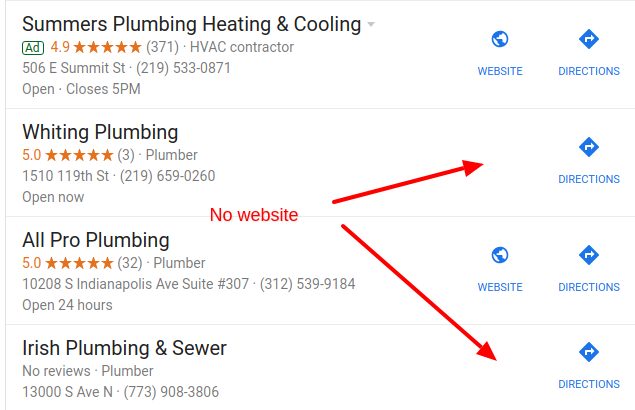 You can see that "Whiting Plumbing" and "Irish Plumbing & Sewer" do not even have a website, yet they rank in the top of the search engine result page (SERP). "Irish Plumbing & Sewer" doesn't even have any reviews, yet it ranks as #3 in the local pack. (The local pack, sometimes referred to as a 'snack pack', are the results that show up under the Google map).
Additionally, the search engine results include the following outside of the local pack: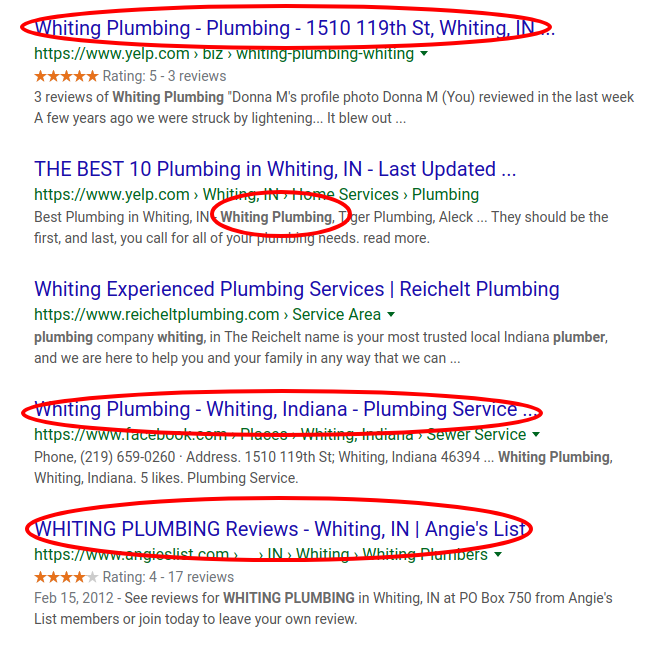 Ok, so do I even need a website?
Technically, no, but it is highly recommended. It doesn't need to be fancy or have a ton of pages, but it does need to be clean, professional, and represent your brand well.
Consider this statistic.
61% of users are more likely to contact a local business if they have a mobile friendly website.
Because of the ubiquity of company websites, users are increasingly expecting a legitimate business to have a website. Those that don't will be seen as 'less than', and consequently, they won't appear as trustworthy as their website wielding competitors.
In addition to the trust factor, having a website will also help your business rank in organic search results outside of the local pack and other directory listings.
So let's compare our previous screenshots of a company WITHOUT a website to a company WITH a website: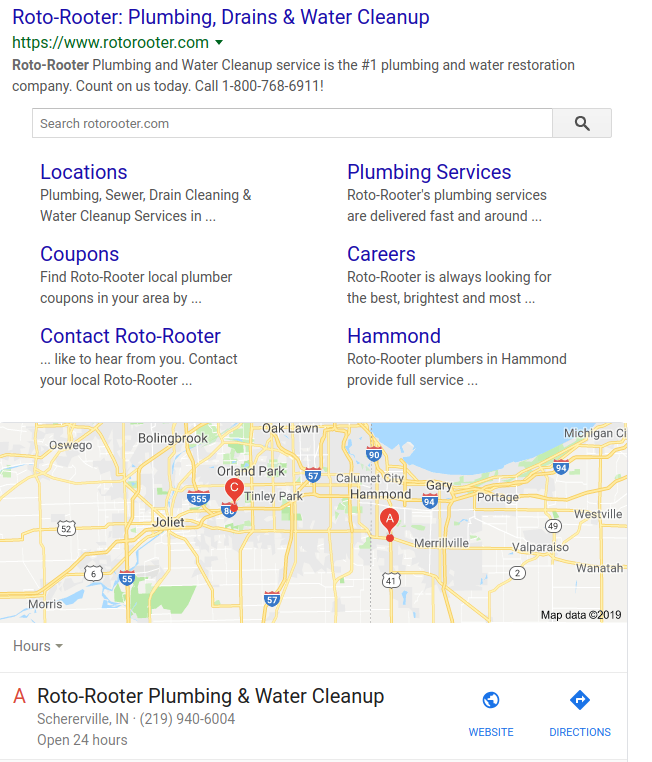 Ok, there's definitely a difference that will have an impact on the trust factor. I know, you're probably saying: "You're comparing a small biz to a huge national company." While that is true, the point I'm trying to make is that having your website in the search results makes a big difference.
What's more, you have complete control over the titles and meta descriptions (the blue text and snippets underneath) because you have full control over your own website.
And these 'local packs', how do I get in?
Local packs are largely driven by Google My Business listings. If you don't have a website, you must have a GMB (Google My Business) listing. Trust me. Don't leave your business hanging without it.
It's not difficult to get started. Just create GMB account and fill out your business info thoroughly. If you don't have the time or inclination to do so, we can help you, but please, if you only do one thing, do this.
Does Every Local Business Benefit From Local SEO?
Great question.
And the answer is no.
The rule of thumb is, if your company is selling products or services to consumers in a specific geographic location (or locations), then local SEO is for you.
Examples of this would be local construction companies, restaurants, mom-and-pop stores, law offices, etc.
On the other hand, if you are doing business online or travel to various locations, then local SEO is probably not of much use to you.
It still can be, in that there are people who still like to deal with entities who operate out of an office in close proximity, but for the most part, you would benefit more from national or international SEO.
Ok, I'm game. What Should I Focus On First?
Get your GMB on
As stated before, if you do nothing else, at least create or claim your Google My Business listing and optimize it. Make sure that you:
Enter your business name, address and phone number (NAP) and ensure that they are correct.
Verify your location.
Enter your hours of operation.
Add images. Preferably ones of your location and/or activities at your location.
Optimize your images by geo tagging them.
And once you have that, encourage your customers to leave reviews – good or bad. Of course, we all want great reviews, but even some less than stellar ones will make you appear 'human'.
For more details on how to do this yourself, see the GMB documentation. We can also do this for a small fee if you prefer a hands-off approach, so feel free to contact us.
Squash The Bugs
This is arguably the easiest to fix. Take a look at this example: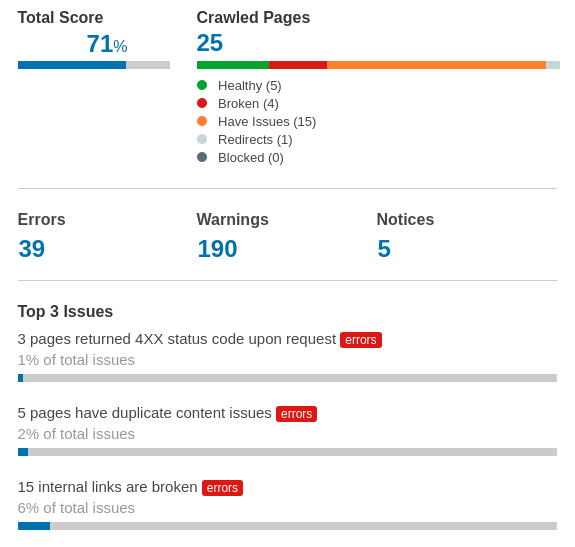 I'm not going to call anyone out, but this is an example of a site that has a LOT to gain from some technical fixes.
So if you have a website, I highly recommend you start with a site audit.
P.S. – You can get a mini audit like this one for free. Just go to our homepage and fill out your domain name and email address in the red toolbox at the top of the page. Your free audit will arrive in your email box within minutes and will give you an idea of where you stand.
Get a complete SEO site audit done by a professional and then fix all the issues. This is the easy part because you have complete control over this. Once you get into off page SEO, such as link building, you're not so much in the driver's seat anymore.
Stake Out Your Business Directory Listings
Getting your business into the major directory listings is a good idea. Some examples include Yelp, Clutch, and Apple Maps.
If you can find some listings specific to your industry, do it.
There are services out there like Moz Local that provide some nice tools as well.
Take Your NAPs Seriously
Your business Name, Address and Phone number needs to be accurate and consistent across your whole online presence.
Not only can inaccurate information be confusing to potential customers, but search engines as well.
Get On The Map
If you get your GMB setup properly and include your business address, you'll be shown on Google Maps. It's easy – as a matter of fact, it's almost a side effect of being on GMB – so do it.
Get On The Social Media Bandwagon
Social media is not for everyone, but it can be of great value to your small business. Depending on your industry, you can use it for online marketing or local marketing, as social media channels have a huge audience.
In my opinion, this is a better topic for PPC and advertising. However, Google now indexes social media posts, so it's another potential avenue to get some search rankings.
Is this something I can do myself?
You know, to save some $$$.
Ok, so the big question most small business owners have: how much does it cost and do I need to hire someone?
You can do most of the things we went over in this article and save some bank.
The real question becomes, "Do you have the time and inclination"?
As you may have guessed by now, SEO is a time consuming task. It requires staying abreast of emerging trends constantly. Google algorithm changes are so frequent now, that it's a job just keeping up with that.
If you don't have the time to deal with this, there are many great agencies out there, including ourselves that can help. But please, be careful. If it sounds too good to be true, it probably is. It's better NOT to do SEO, than to do it wrong and get yourself penalized, or worse yet, banned.
One final thought.
SEO is a race.
The closer you get to the top on the search engine result pages, the better the contenders are, and therefore, the more effort it will take to stay on top. But the rewards are also great. Like in the Olympics, the top 3 get the big prizes. The rest? Well, you just have to keep trying.
If you need any digital marketing or seo work done, contact us. We can discuss your needs and set you on the right path – whether it's with us, someone else, or a DYI project you'd like to take a stab at. We also do web design and custom web application programming.
References:
blog.hubspot.com
www.forbes.com
www.quora.com
www.lyfemarketing.com
support.google.com