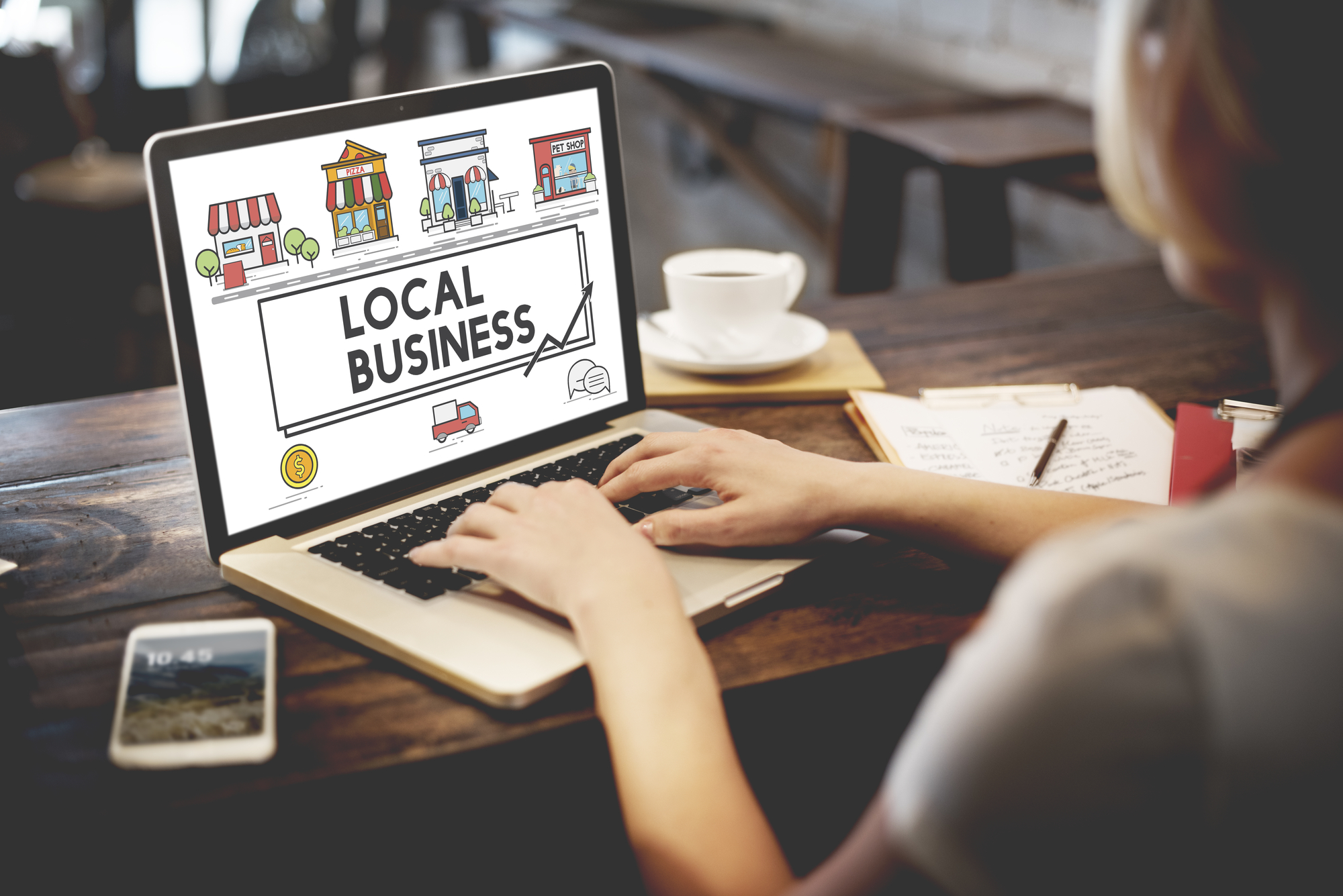 24

SEP
Has your company been operating within the same area for years? Or maybe your operation is a newer business that has sprung up in your hometown. You may have a solid foundation of loyal customers but are struggling to grow, but how are you supposed to reach new audience members within your location?
That's where local business marketing via SEO can help. In this guide, we'll discuss what local SEO is, its benefits, and how to make it work for your business.
What Is Local SEO?
Local SEO is the technique of optimizing a business's website to improve brand awareness, leads, and website traffic from local searches.
Some ways that a professional can execute SEO for local business websites include:
Optimizing a company's Google My Business profile
Creating NAP (Name, Address, Phone Number) citations
Researching local keywords and creating content to target these keywords
What Are the Benefits of Local SEO?
If you've stuck to traditional print advertising for as long as you can remember, it might be challenging to make the switch to online marketing.
So what makes local SEO important for your company? Why should you focus your efforts online?
Here are just a few ways that local SEO can positively impact your business and why it's totally worth it:
Increase foot traffic to brick-and-mortar locations
Boost traffic to your local business website
Increase the number of bookings, phone calls, and leads
Buy loyalty, trust, and engagement with searchers

The figure above shows the results of a focused local SEO campaign. Traffic is a key metric when measuring local SEO performance.
What's the Difference between Local and "Normal" SEO?
Local and "normal" (also called "organic") SEO are similar in theory, but they have some distinct differences.
Local SEO has a regional component to it. It relies on Internet users who are looking for a product or service in a specific area.
On the other hand, organic SEO tries to appeal to a much larger audience base. A business that's implementing organic SEO can cater its services and ship its products to people worldwide. For example, someone living in California and someone else in Tokyo can equally experience a business's organic SEO efforts and become loyal customers.
Businesses that operate mainly (or solely) online are the best candidates for organic SEO. If your company offers SaaS (software as a service), content writing, or another web-based service, organic SEO will be your best bet. But you can also benefit from organic SEO if you have many distribution centers for your products located around the country (or the ability to ship your items to anyone who wants to purchase them).
While some businesses can benefit from implementing both methods, others should focus on one type. For example, it doesn't make sense for a company with fulfillment centers nationwide to concentrate on local search engine optimization.
But you should note that one strategy doesn't necessarily interfere with the other. So if your local efforts aren't panning out, your organic tactics could still be doing well.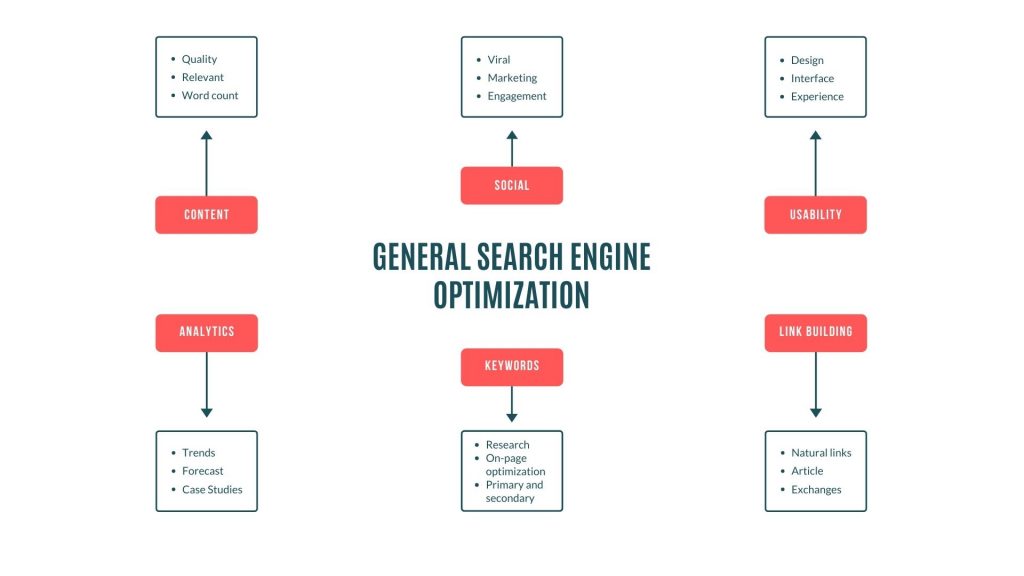 The figure above shows the general tenets of all search engine optimization, local and "normal", or organic.
Who Is Local SEO For?
Local SEO is ideal for any business that operates within a particular region. So, this business cannot be Amazon or any other large retailer. It should meet with customers face-to-face, whether it be through a storefront or service area, but that is necessary. For example, Elegrit Web Design & Development - mostly an online business - offers web design and organic SEO services nationally, but we provide local SEO services to Northwest Indiana and Chicagoland businesses as well; we know the region and can better serve local businesses in the local SEO space, but we may or may not actually meet the client face-to-face simply because there is no need.
Companies with a brick-and-mortar shop in a specific area often use regional SEO. A store with a physical location could be a:
Restaurant
Grocery store
Flower shop
Coffee shop
Clothing boutique
This list isn't anywhere near comprehensive. Any store that sells physical goods to customers in a particular region can benefit from implementing regional SEO into its website.
And goods-based businesses aren't the only ones who can take advantage of local SEO. This practice is also beneficial to any service area business. For example, the following providers can reach customers who are interested in local services:
Doctors
Dentists
Barbers
Swimming pool technicians
Lawn care professionals
Construction workers
You can also think about local SEO like this: imagine you have your own hair salon located in Hammond, IN. You wouldn't want to advertise your services to people living out of town or out of state. Instead, you'd like to direct your advertisements toward Hammond residents. Perfecting your local SEO visibility can help your shop show up when Hammond residents search Google for a "hair salon near me."
What Is a "Local" Search?
A local search is when an Internet user turns to Google or other search engines to ask a question. The user's search query has local intent, meaning they want to discover businesses near them.
If a user is looking for a pizza shop in Munster, IN, they can type in one of three local search phrases:
Pizza shop in Munster
Pizza shop near me
Pizza shop (typing in just "pizza shop" will work if the user makes their geolocation available to Google)
You might be wondering, "How does Google know how to direct Internet users to your local shop?" Well, the search engine uses GPS to keep track of users' locations. This way, it can provide more relevant search results and improve a company's local search rankings.
Offering solutions to local search inquiries is one of Google's innovative capabilities. It also works for Internet users on the go performing one mobile search after another. They will yield drastically different results when they conduct the same search in different locations.
Tip: See how local search optimization works by pulling out your phone. Conduct a quick search on Google and scroll to the bottom. Google will list your approximate location on the bottom banner.
What Are Local Search Engine Results Pages?
SERPs stand for search engine results pages. Local SERPs are the results that show up when an Internet user conducts a local search.
Unfortunately, your business's website won't be the only one that shows up on local results pages. All local businesses will vie for the top spots in the SERPs, which means that you'll have to compete with hundreds, if not thousands, of other pages. Local SEO rankings are competitive, so you must work hard to increase your search engine visibility.
You should always keep up with your regional SEO efforts. Otherwise, Google and other search engines will potentially boot you further and further down the page, decreasing your local search visibility and customers won't find your company's site. Like most business owners, however, you likely do not have the time keep up with this, so it's a good idea to hire a professional who offers local SEO services.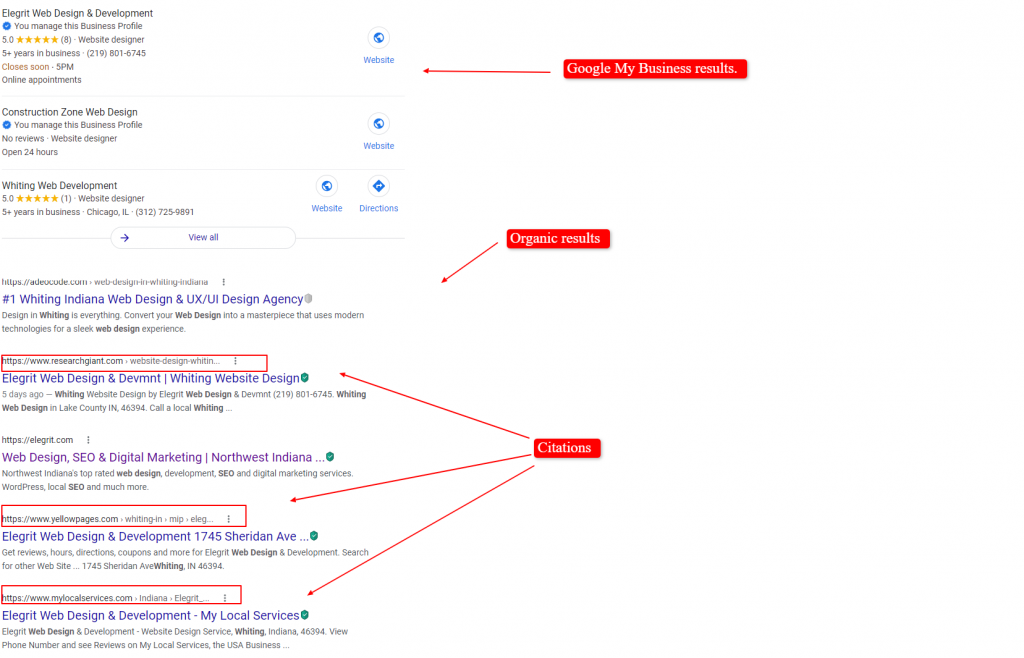 The figure above shows a local search engine result page, or SERP. Note how the citations are part of the result in addition to the Google My Business (GMB) listing and website listing.
The Local Map Pack vs. Standard Results
Think about when you conduct a Google search on your own time. Sometimes, you'll get page after page of traditional results. These results are your standard results — they always show up and are based on many factors.
Within the regional SERPs, there's also the local pack — you may also hear people refer to it as the "snack pack" or the "three pack." This pack features three businesses that are relevant to the user's search.
For example, if a user searches for "pool service technician in Highland, Indiana," this pack will contain three reputable pool service technicians that operate out of Highland. The user won't have to worry about viewing irrelevant information in the snack pack — no HVAC contractors that operate out of Indianapolis will show up here.
The snack pack shows up at the top of all SERPs, so it's desirable to be in this spot. A user won't have to scroll very far at all to see your business's information if it's listed in the snack pack.
All the information that local packs display comes from Google My Business listings, which you'll read more about later on.
Apart from the local pack and organic results, there's technically a third option called "rich search results." Rich search results are results that don't shop as the traditional blue text. Instead, they show up as one of the following items:
Videos
Images
Image carousels
App packs
Top stories
People Also Ask answers
Top stories
How to Optimize Your Google My Business Listing
Your business's Google My Business profile is basically your About page on Google. Your Google My Business profile contains all your business's essential information, including its phone number, address, and hours of operation.
All the information you list in your Google My Business profile goes out to various places, including the standard SERPs and the snack pack. When SERPs receive your data from your Google My Business profile, it gets displayed in a section known as the business knowledge panel.
You should take some time to update all the information you possibly can, including:
A business description
The services you offer
The industry you're in
While you can update some data, customers contribute most of the data via:
GMB subjective attributes
Google reviews
GMB Q&As
GMB fuels results for Google and the Google Maps app. If you don't have an updated GMB profile, customers will have a hard time discovering your company in Google Maps.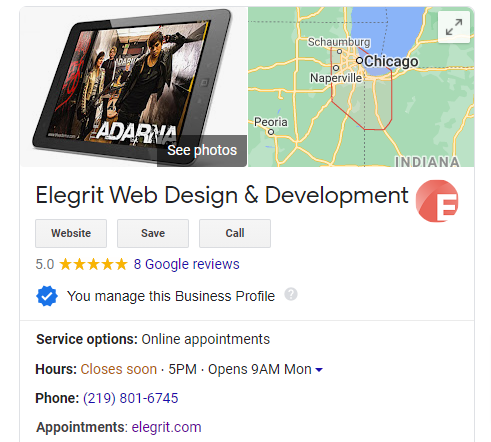 The figure above shows an example of a Google My Business listing for Elegrit Web Design & Development.
Perfecting NAP Citations
Another aspect of improving your online presence and regional SEO is perfecting your NAP local citations.
If you're wondering what a NAP citation is, it's basically an online listing for your business. It lists your business's name, address, and phone number. This listing makes it easy for customers to discover your company as long as the information is accurate.
If this concept sounds familiar, it's because you've already read about it. Google My Business is the perfect example of a citation that you can establish for a local audience. But there are other directory listings you can take advantage of, including Apple Maps and Bing Places.
Whichever business directories or data aggregators you use, you must always keep your citations up-to-date. Data aggregators won't know if your company has the same address or has undergone a company name change. It's your responsibility to supply your directory with any adjustments. And all small businesses must stay on top of their NAP citations.
The Importance of Positive Reviews in Regional SEO
Did you know that more than 80 percent of people trust online reviews just as much as they trust their friends? Because of this trend, it's vital to concentrate on building your reviews. Without good reviews, your Google local search marketing campaign will suffer.
Potential customers want to see what former local customers have to say about your company. But these reviews should speak of your company's values, not just the product/service you're selling. You should also strive to display reviews that come from third-party websites instead of native reviews (reviews that your company has gathered itself).
Good online reviews set your company apart from other local businesses by giving you the chance to build your customers' trust and showcase your brand's personality via the responses you leave.
How Does the Google Algorithm Work For Local Searches?
Google accounts for many factors when it decides which websites belong near the top of SERPs. Google considers many more elements when it comes to deciding local search displays than organic ones.
But we can break down Google's considerations for local inquiries into three broad categories:
Relevance
Prominence
Proximity
Most local businesses will have to focus on these three categories to stand a chance at making it near the top of SERPs. We'll explore each category more in-depth:
Relevance
Is the business relevant to the search inquiry in question?
Relevance is one of the most important elements of the Google local algorithm. Google's job is to deliver searchers results that answer their questions and meet their needs. Google would fail in its main role if it provided searchers irrelevant results.
For example, let's say a customer searches for "dog walkers near me." We can only imagine their frustration if Google showed page after page of results for horse groomers. Luckily, Google is much smarter than that.
Let Google know that your business is relevant to specific inquiries by:
Performing local keyword research and incorporating these keywords into your website content
Writing title tags and meta descriptions
Obtaining links from local and industry-specific sites
Creating relevant content to establish your business's authority
Prominence
Google won't show your business to Internet users if your company isn't anything special. You need to prove that your business is legitimate, credible, and worth considering. If Google can't detect enough prominence signals, it'll simply rank other websites.
Google won't show your business to Internet users if your company isn't anything special. You need to prove that your business is legitimate, credible, and worth considering. If Google can't detect enough prominence signals, it'll simply rank other websites.
But what are these prominence signals, exactly? Some things you can do to establish your company's prominence include:
Build local links
Get listed in directories
Create and share relevant blog posts and articles
Gain recognition from local media outlets
Have active social media accounts
Get your citations verified if possible
You won't be able to complete these steps overnight, but they can help you reach your goal of becoming a more prominent business that Google will want to reward with a high spot in the SERPs.
Proximity
The last, but certainly not least, category on Google's radar is proximity. When a searcher types in a service or product they're looking for into Google, they want a provider that's nearby. And we're talking close proximity. No one wants to drive two towns over to get something that they could find within the same block.
Proximity is the one factor that's uniquely local, as relevance and prominence also play a role in traditional SEO.
Why Do Local Businesses Need Local SEO?
In 2018, Google reported that nearly half of all users' searches were performed with local intent. What exactly does this mean? Nearly one out of every two users had local results in mind — they weren't looking for a national company that distributes products or performs services. Instead, they wanted to discover a local business that could meet their needs.
Regional SEO will help customers discover your local landing pages and even improve your chances of showing up in voice search inquiries.
The Best Local SEO Tips for Your Local Business
We've covered a lot of dense information thus far. So, if you're looking for some quick ways to improve your local ranking factors, check out these top tips:
Update your GMB profile: Don't forget to upload Google posts (like special offers) to engage your customers!
Acquire reviews: Don't be shy about asking your customers to leave reviews. The best time to ask is in person right after you close a sale!
Focus on area-specific keywords: Set aside some time to perform thorough keyword research. You can figure out which keywords are worth targeting and implement them into your site's content and URLs.
Try local link-building strategies: Focus on link building by guest posting, creating valuable content for your site, and engaging with nearby influencers on social media.
Implement all of these tips using the best local SEO tools available. You can download listing management software to keep tabs on all your citations and use KPI trackers like Google Analytics to track your campaigns' progress.
Implementing Regional SEO For Your Business
Are you looking to improve your website's position within local search results? Many factors influence the position of local sites within SERPs, including your local business listings and online reviews. But with plenty of patience and a professional SEO team at your side, you'll witness drastic results within months!
FAQs
How Does Local SEO Work?
When a local business implements local SEO efforts, relevant Internet users can discover area-specific companies to meet their needs.
What Is a Local SEO Strategy?
A local or regional SEO strategy is a list of tangible steps you can take to improve your chances of showing up in regional results on search engines.
Why Do We Need a Local SEO Campaign?
A regional SEO campaign will help improve your business's local rankings online. Eventually, you'll experience higher website traffic and more converted customers.
How Do I Start Local SEO?
Some companies like to start implementing regional SEO tactics on their own. Updating the information on your Google My Business listing is free and simple, for instance.
But if your regional SEO is very poor, you can benefit from getting a professional to perform an SEO audit. This audit will pinpoint exactly where you can improve your SEO efforts. Then, the professional can devise a plan for your company to create local content, build links, improve online reviews, and implement other actions to increase your online visibility to an area-specific audience.
If you'd like a free consultation about your local SEO for your business, contact us; we'd be happy to chat with you.