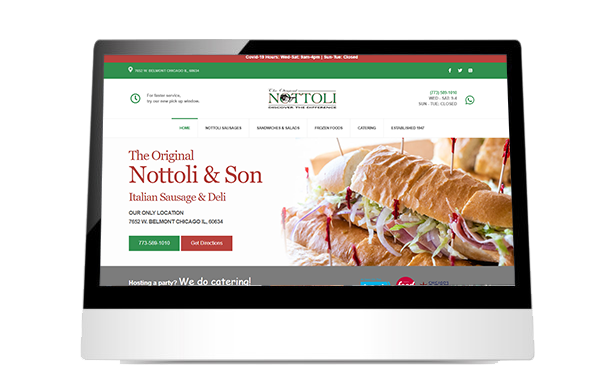 The Original Nottoli & Son
The Original Nottoli & Son Italian Sausage and Deli is known for their award winning Italian sausage in Chicagoland. Since 1947, they have been serving up the community with delicious sausage, sandwiches and more.

The owner was looking for a web design agency to revamp his existing website design and make it responsive for a better user experience (ux and ui). Our web design and development digital team provided several graphic design mockups before settling on something contemporary and intuitive that would please both users and search engines. With a strong brand identity, the new Nottoli website focused on the legacy and menu of the deli.

The website was built using WordPress (loved by web developers and digital marketing teams alike for its ease of use) with a focus on making it as easy to use as updating a social media account.

As a full service digital agency that specializes in website design for small businesses in Chicago and Northwest Indiana, this was a perfect fit for both, us and for our client. Since the launch of the new website, we have seen keywords, traffic and impressions become more relevant to the deli as well.

Project Info